The Clifford C. F. Wong Secondary Library Guide
Newspaper and Magazines
Introduction
To keep you stay informed on current events and extend your multidisciplinary knowledge, the Secondary Library subscribes to a number of worldwide newspaper and magazines. You may use them in the Library! Moreover, the past issue of magazine can be checked-out, which means, you can borrow the previous magazines for 14 days!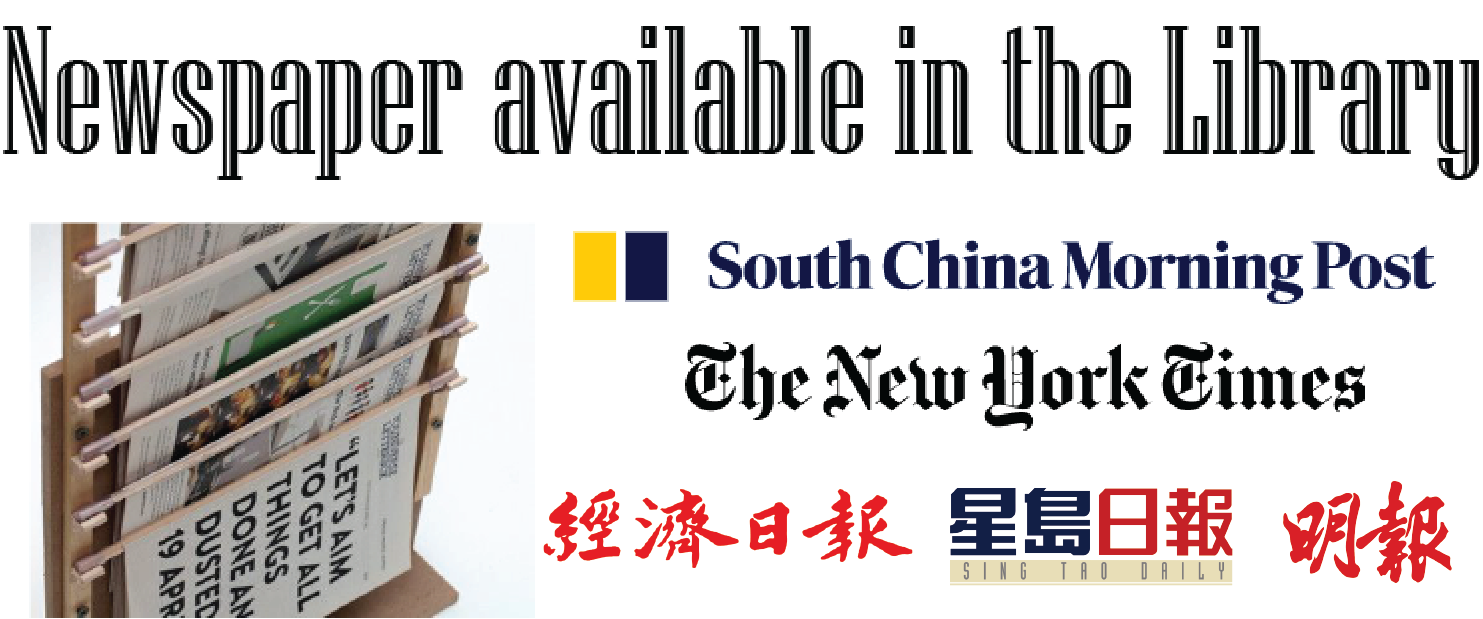 Reading a newspaper each day is a habit that "helps you move outside the narrow zone of your personal affairs" and expand your horizons. It enables you to take part in every discussion pertaining to the world's current events. Reading it daily will widen the scope of your knowledge which is an integral part of education. Not only are the news itself that are beneficial, but it also develop your language skills and increases your word vocabulary.
Not only can you read newspapers in the library, but you can also
read SCMP & Young Post, The New York Times and WiseNews OFF CAMPUS! 
Here is the user name and password for remote access.

But a Trump lawyer has signaled an intent to appeal the ruling, which raises novel issues about an ex-president's executive privilege powers.
At the Willard and the White House, the Jan. 6 Panel Widens Its Net This link opens in a new window   Nov 9, 2021
What went on at a five-star hotel near the White House the day before the riot could be a window into how a Trump-directed plot to upend the election ended in violence at the Capitol.
Trump Officials Illegally Campaigned While in Office, Watchdog Finds This link opens in a new window   Nov 9, 2021
Mr. Trump's son-in-law and his chief of staff are among those accused of violating a law designed to prevent federal employees from abusing their power.
Biden Says Spending Bill Will Slow Inflation. But When? This link opens in a new window   Nov 11, 2021
The Biden administration has argued that its infrastructure and broader economic package will slow rapid price increases. But that will take time.
Trump Allies Help Bolsonaro Sow Doubt in Brazil's Elections This link opens in a new window   Nov 11, 2021
With his poll numbers falling, President Jair Bolsonaro is already questioning the legitimacy of next year's election. He has help from the United States.
Migrants in Peril, and Raw Emotions, in a Volatile European Border Standoff This link opens in a new window   Nov 12, 2021
A confrontation over migrants between Belarus and Poland is growing more volatile, as nationalist fervor rises in both countries and a humanitarian disaster looms.
Who Is Aleksandr Lukashenko? Here's What You Need to Know This link opens in a new window     Nov 11, 2021
A migrant crisis on the border with Poland has put the Belarusian president at the center of a clash roiling Europe.
Germany's Fourth Covid Wave: 'A Pandemic of the Unvaccinated' This link opens in a new window   Nov 11, 2021
Germany once set an example for how to manage the coronavirus. Now, deep pockets of vaccine resistance are helping drive daily infections to new heights.
Illinois Republican Lawmakers at Odds on Infrastructure Bill This link opens in a new window   Nov 11, 2021
Representative Darin LaHood voted against the infrastructure bill while Representative Adam Kinzinger supported it. The split reflects the Republican Party's post-Trump era of uncertainty.
In Scrutinized Kyle Rittenhouse Trial, It's the Judge Commanding Attention This link opens in a new window   Nov 11, 2021
Judge Bruce Schroeder, who has presided over Mr. Rittenhouse's homicide trial, has drawn notice for sparring with prosecutors and offering historical commentary.
Online Magazines
In addition to printed copies, we have subscribed to online magazines as well, let's click here to see the list and login method.
Printed Magazines