ISF Squash Team Garners More Medals in Hong Kong Competitions
The ISF Squash Team once again accomplished remarkable results in the Hong Kong Junior Squash Challenge Competition 2022 after five days of heated rallies from September 3 to 12.
Among the 18 student-athletes representing the ISF Squash Team, four of them were ranked Top 4 while other young members earned the top 15 positions. Justin Cheng, our Grade 10 student, was crowned Champion in Boys Under 17, while our Grade 11 student, Valerie Huang, and Grade 5 student, Makaela Cassidy, were named 1st runner up and 2nd runner up in Girls Under 17 and 11 respectively.
Full list of Top 15 positions of the ISF Squash Team members:
| | | |
| --- | --- | --- |
| Boys Under 17 | Justin Cheng | Champion |
| Girls Under 17 | Valerie Huang | 1st runner up |
| Girls Under 11 | Makaela Cassidy | 2nd runner up |
| Boys Under 13 | Sidney Huang | No. 4 |
| Boys Under 11 | Lucas Lam | No. 5 |
| Boys Under 9 | Hung Wai Chun | No. 5 |
| Girls Under 9 | Zelda Chan | No. 7 |
| Boys Under 9 | Mei Tianxiao | No. 8 |
| Girls Under 9 | Emma Lin | No. 9 |
| Boys Under 11 | Chase Yau | No. 10 |
| Girls Under 13 | Jacqueline Chung | No. 11 |
| Boys Under 11 | Dong Bo Ang | No. 11 |
| Boys Under 13 | Cameron Cassidy | No. 11 |
| Girls Under 9 | Audrey Lam | No. 12 |
| Boys Under 9 | Jace Wong | No. 13 |
| Boys Under 11 | Keith Chan | No. 13 |
| Boys Under 13 | August Cheng | No. 15 |
| Boys Under 15 | Anton Szeto | No. 15 |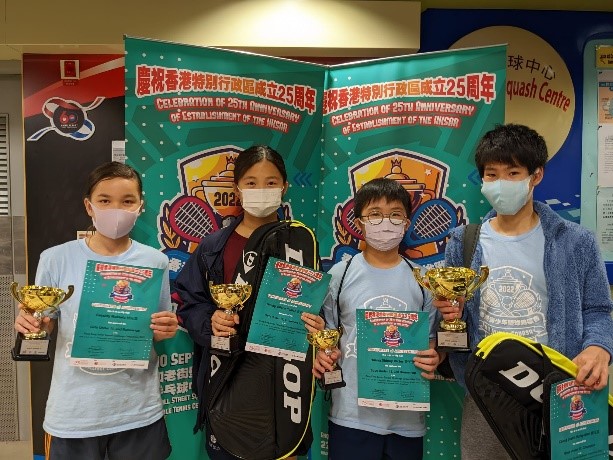 From left: Makaela Cassidy, Valerie Huang, Sidney Huang and Justin Cheng